Product Description
Features
- Double hammer type.
- High productivity due to light weight,compact design and easy handing grip for operator.
- Specially used in the field of home electric appliances assembly line.
- Control torque due to a flow regulation valve equipped.
For Use Attention
- Before using, read manual supplied with tool.
- Wear ear and eye protection.
- Repetitive motions or exposure to vibration may be harmful to your hands or arms.
- Use only standard accessories.
Size
Model
Hex size
Bolt size
Max.free speed
Max. torque
Length
Weight
Thread air inlet
Average air consumption
Noise
Recommended air pressure
in
mm
Size
RPM
kg.m
N.m
in
mm
Ib
kg
in
ft3/min
m3/min
dB
PSI
kgf/cm2
DID-4S
1/4
6.35
M4-M6
11,000
3
29
6.8
175
1.65
0.75
PT 1/4
10.5
0.3
95
85
6
← → You can scroll left and right.
Recommended Arrangement of Air Piping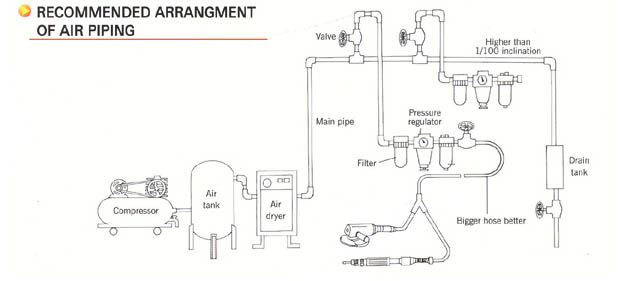 Equipment