Product Description
Features
- Easy and quick control of rotation direction.
- Providing a firm torque because the auto shut-off clutch shuts down the air supply when a set torque is accomplished.
- Specially used in the precision fastening process.
- Quick changeable bit driver anvil.
- Available 5 or 6.35 mm bit according to user need.
For Use Attention
- Before using, read manual supplied with tool.
- Wear ear and eye protection.
- Repetitive motions or exposure to vibration may be harmful to your hands or arms.
- Use only standard accessories.
Specification
Model
Bit size
Max.
free speed
Max. torque
Length
Weight
Thread
air inlet
Hose size
(outer – inner)
Average
air consumption
Noise
Recommended
air pressure
mm
RPM
kg.cm
N.m
in
mm
Ib
kg
in
mm
ft3/min
m3/min
dB
PSI
kgf/cm2
DS-4TS-10
5 or 6.35
1,400
5-20
0.50-1.96
9.44
240
1.4
0.6
PT 1/8
8-5
11.3
0.32
80
85
6
← → You can scroll left and right.
Recommended Arrangement of Air Piping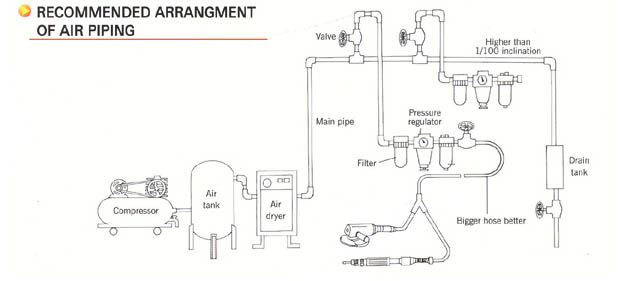 Exploded